I remember the childhood summers being full of sunshine and butterflies. You can create the wonderful summer feeling in your home any time of the year with fun and easy butterfly decorations.
This post contains affiliate links. After clicking one of these links, I might get a small commission at no extra cost to you if you make a purchase. Read our full disclosure and liability disclaimer.
1. Butterfly Clips DIY
As you can see, I turned this winter decoration into a summer decoration by adding a few butterflies.

I love decorating the house for various seasons but I run into the problem of storing all the stuff during the off-season.

One cool solution to the problem is to use some of the same stuff throughout the year and just tweak it a little bit.
What you need for this butterfly DIY decor:
clips (You can get these from a jewelry making section at Hobby Lobby or most other craft stores. The ones I used are about 1.25 inches long)
Since the butterflies we got came as a garland, we clipped off the string. And then hot glued the clips on the backside of the butterflies.

If you want the butterflies to be in various positions then glue the clips in different angles.
Now you can decorate the house for summer with cute clip on butterflies.
We made this daisy basket for my daughter's graduation party. It had a polka dot ribbon in addition to the burlap. You can see the diy daisy basket with the polka dot ribbon here.
Would you be interested in making a Butterfly Gift Basket for a friend? My daughter at Cheerful Daisy put together the cutest butterfly gift ideas.
2. 3D Butterfly Wall Art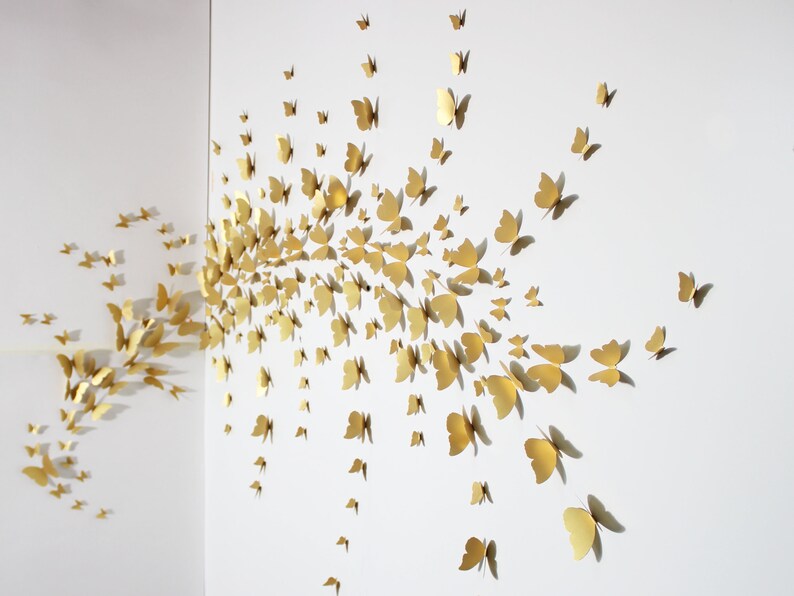 You can create the most stunning wall with these paper butterflies!

They come in various colors and with design plans! You can of course come up with your own but for some of us (me) it is really helpful to have a ready made plan.

The seller helps you in choosing colors and your design. So, go ahead and take a look at the fun 3D butterfly wall art ideas.
3. Butterfly Cutout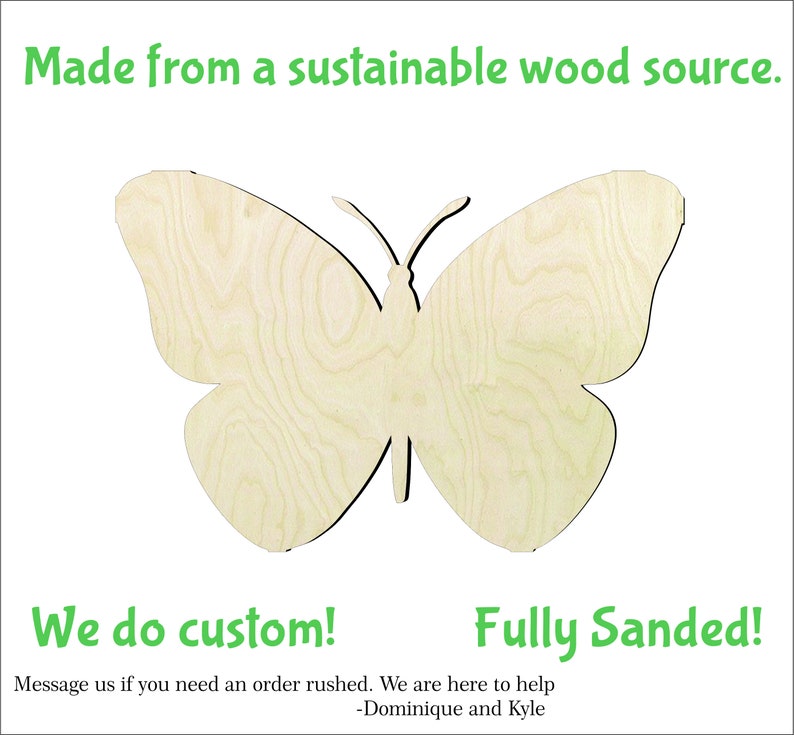 If you're planning a butterfly themed baby shower then this butterfly decoration DIY is for you!
When I saw these I thought to myself how awesome would it look if you glued artificial flowers on it!
Butterfly Cutout Fun:
hot glue artificial flowers on it
paint it
write a name on it
attach photos to it
attach scrapbook paper with mod podge
You can get these butterfly cutouts in various sizes from 2″ to 20″.

Imagine all the fun things you can do and how awesome your walls or shelves will look with pretty butterflies.
4. Butterfly Stepping Stone
Does anyone step on these stepping stones or do we just call them stepping stones?
If you find awesome flat rocks be creative and make your own butterfly stepping stone.
As a fun alternative you can use a butterfly stepping stone kit. The stone has a fun pattern so you don't even have to come up with your own. But you can let your imagination fly as you paint it.
5. Butterfly Sun Catcher
These cute butterflies and other bugs don't only catch the sun but make pretty sounds in the wind. Two flies with one slap! Ha ha… was that even funny…
6. Welcome Sign
Wooden welcome signs are popular right now. You can find them in many stores but if you want to decorate one to match your style here is a fun welcome sign kit.

You can choose the interchangeable wood cutouts from 150 options. And since this post is about butterflies, let's pick a butterfly wood cutout.

Want a vertical sign? Me too. Here you go: vertical welcome sign kit.
7. Butterfly Wings
Can it get any easier?
I guess it could but this is pretty simple too.
If you have little girls you probably have fairy or butterfly wings at home.
Simply stretch them around the back of the chair and you're all set.
A great way to add little bit of fun to an ordinary dinner time.

These would be fun for a fairy party too. Sweet ideas for fairy party that is all about desserts. I have another one for the little fairy artists.
8. Butterfly Lantern
I love lanterns. They add such a cozy feeling to any occasion.
For this decor you need:
9. Butterfly Frame
A prefect summer decoration for home, summer cottage or a butterfly birthday party.
Lilies of the valley remind me of my childhood summers. I always saw them in the nature park right behind my parents house.

When I look at the picture I feel like I'm at a beautiful summer cottage. Enjoying the relaxing days of summer. I wonder if creating a replica of this would make me feel like that in my home.
What you need:
Add a bowl filled with flowers to complete the look.
10. Butterfly Wreath
I love this! So pretty with the springy colors. I could find this kind of wreath only in smaller sizes. If you're interested in a small wreath you might just like this heart shaped rattan wreath.
To get you started:
I looked for a rattan butterfly but could not find one. But any butterfly decor would look nice with this wreath.
In the beginning of this post I mentioned that I remember my childhood summers being full of sunshine and butterflies. That's what I remember, but that's not what they were always like.

I grew up in Finland where the summers are short and very unpredictable. The days could be sunny and warm… or rainy and cold. But looking back they are full of great memories, sunshine and butterflies.

I've awesome ideas for you for making great memories. Join the fun below!
P.S. Save for later! My Tuesday Therapy is here to help you to make Great Memories!
As an Amazon Associate I earn from qualifying purchases.